Hello Friends, do you remember when we were living in Germany and visited Chris and Florrie's friends
in Turkey?
Well, now we live in Sicily and they live in Belgium. They visited us for Carnevale last year; this year we visited them over a long weekend. We were there not to long after the despicable attacks so there seemed to be more law enforcement types with guns around. We were careful to obey all the rules, even this one.
It struck us all as a little odd considering this is one of Belgium's most famous icons. Many of you probably remember seeing this little guy peeing in all kinds of fountains and yards. There are many legends about the boy, you can read some of them
here.
He has a new purpose currently. He helps to define the attitude towards terrorist here in Europe.
The  Manneken Pis is located very close to the Grand Palace in Brussels. The area was amazing.
Here are Chris and Florrie with their friends Don and Jill and Chris with Jesus (he's got the bobble-head Jesus in his hands!)
More of the Grand Palace area.
These two men have not been crooks in the USA, Turkey, Sicily, and Belgium.
They have fun no matter where they go.
I know I'm known for an affinity with wine but once in a while I like a nice glass of beer,
just like the next man, and Nemo, of course, drinks like a fish.
Florrie was wishing she had an apostrophe when we passed these two places.

We saw some beautiful statues. And, we went into some churches, actually lots of churches.
Some more fancy than others.
In one of these churches we saw The Ghent Altar Piece,
the most stolen piece of artwork of all time.
Even I wasn't allowed to take pictures so here is picture from the article.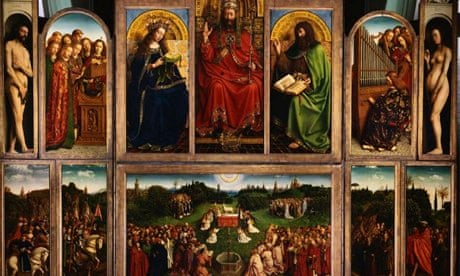 Belgium is one of those countries that has canals,
whimsy,

lots of amazing buildings,
some really cool public spaces and streets,
and best of all, good friends.
I must confess it has been quite a while since we were in Begium. I had hoped to have this done sooner but you know what they say about good intentions. Nemo and I will talk to you again at the end of the summer. Until then au revoir.